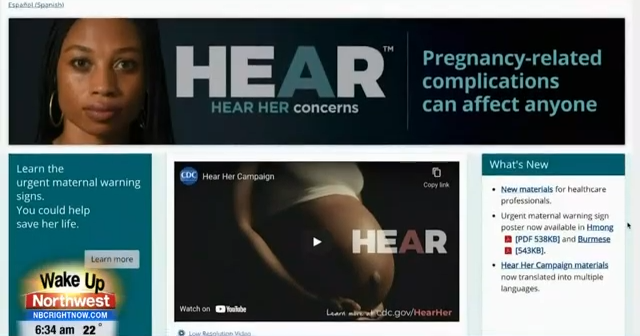 CDC released a new webpage to support pregnant and postpartum women | News
The CDC has released a new webpage for healthcare professionals to help them during and after pregnancy.
This is part of the "Hear Her" campaign, which was created to educate others about the symptoms women should be aware of during and after pregnancy. Their goal is to reduce the number of pregnancy-related deaths.
According to the CDC, nearly 2 out of 3 women suffer from complications that could be prevented and approximately 700 women die each year in the United States due to these complications.
Perinatal nurse clinician Cheryl Larry-Osman Bellamy says, "Any bleeding during pregnancy is a sign that there could be complications, and we need to find out what's causing that bleeding, that leakage of fluid before the mother being 37 weeks before she goes into labor is also concerning, other things such as pain are not common in pregnancies."
Other symptoms include: extreme swelling of the hands and face, high fever, headaches that don't go away, and sudden stoppage or slowness of the baby's movements.
The campaign encourages women to speak out when something is wrong. They also encourage friends and family members to be aware of these symptoms to help pregnant women in times of need, even after giving birth.
Health professionals play a vital role in helping their patients avoid maternal mortality. If you feel like something is wrong, try to avoid any type of medication until you call or see your doctor.
"We want to see the patient or have contact with them in some way to decide what needs to be done, we want to be careful about taking drugs that could map something very serious," said added Cheryl.
If you are pregnant or within a year of giving birth, be sure to tell your doctor about any concerning symptoms you may be experiencing.
For more information, you can visit https://www.cdc.gov/hearher/index.html