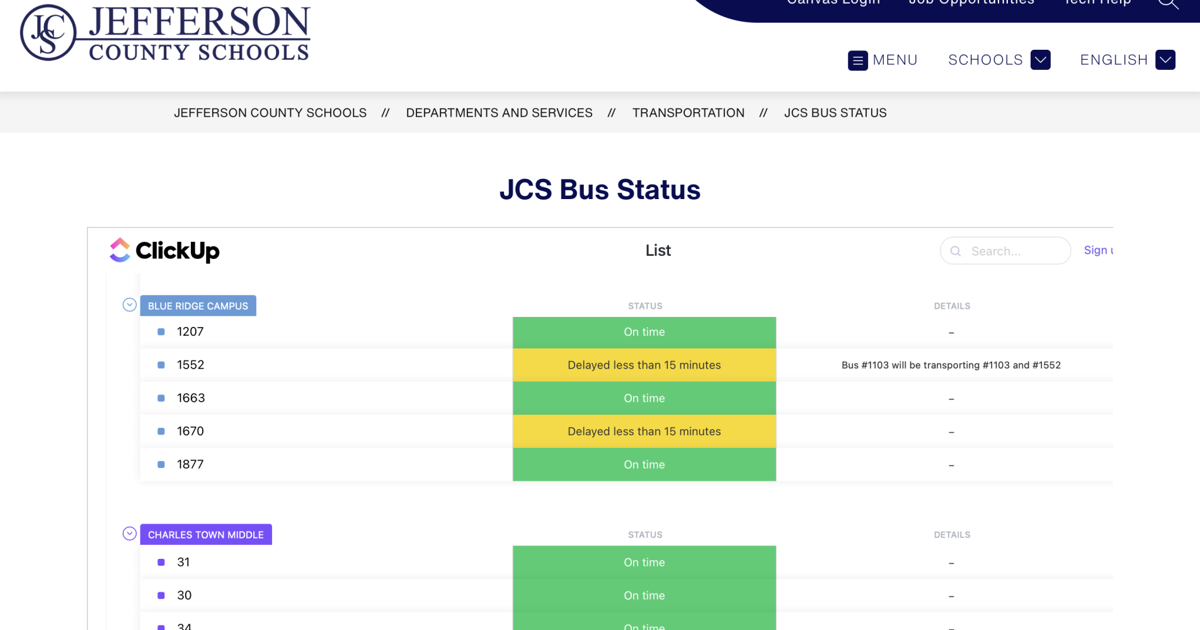 JCS encourages staff and families to use the Bus Status web page to stay up to date | Journal-news
CHARLES TOWN — As some school districts across the country were forced to cancel and change transportation routes due to winter weather and staffing shortages, Jefferson County Schools encouraged parents to use the webpage Bus Status provided by the district to stay up to date.
"We have transport staff who do an incredible job of transporting every student safely every day. During times of quarantine and staff shortages, we provided student transportation every day," said JCS Assistant Superintendent of Operations Joyce White. "As you know, some districts have had difficulty doing this. We are very proud of this fact. We continue to do so.
She noted that on Sunday, drivers put in extra work to ensure every student can be accommodated and that the district is working to communicate as best as possible with staff and families, leading her to the Status webpage. from the bus.
The page, which can be found on the JCS app or website, is updated every morning and every afternoon in real time with transport updates. Schools are listed alphabetically with buses listed by number. Next to each bus is whether it is on time or delayed and all the notes.
"We hope this will make us much more effective in our communication and make it easy for people to get there," White said.
On the JCS website, the home page is under the departments tab and under the transportation tab.
White also thanked the maintenance team for their hard work throughout the winter storms of the past week, and she said the technology department was continuing its efforts by distributing laptops to secretaries over the next two weeks. . The transition from desktop to laptop is intended to help secretaries be more efficient.
White provided an update on the status of the new Ranson and Shepherdstown schools, which are now in the design and development phase. Both schools will have meetings next week with Education Specification Committees, which include staff from both schools. The interior designer will be present.
"We expect this phase to be complete and complete by the end of March, and we will give the (School Building Authority) an update on phase 2," White said.