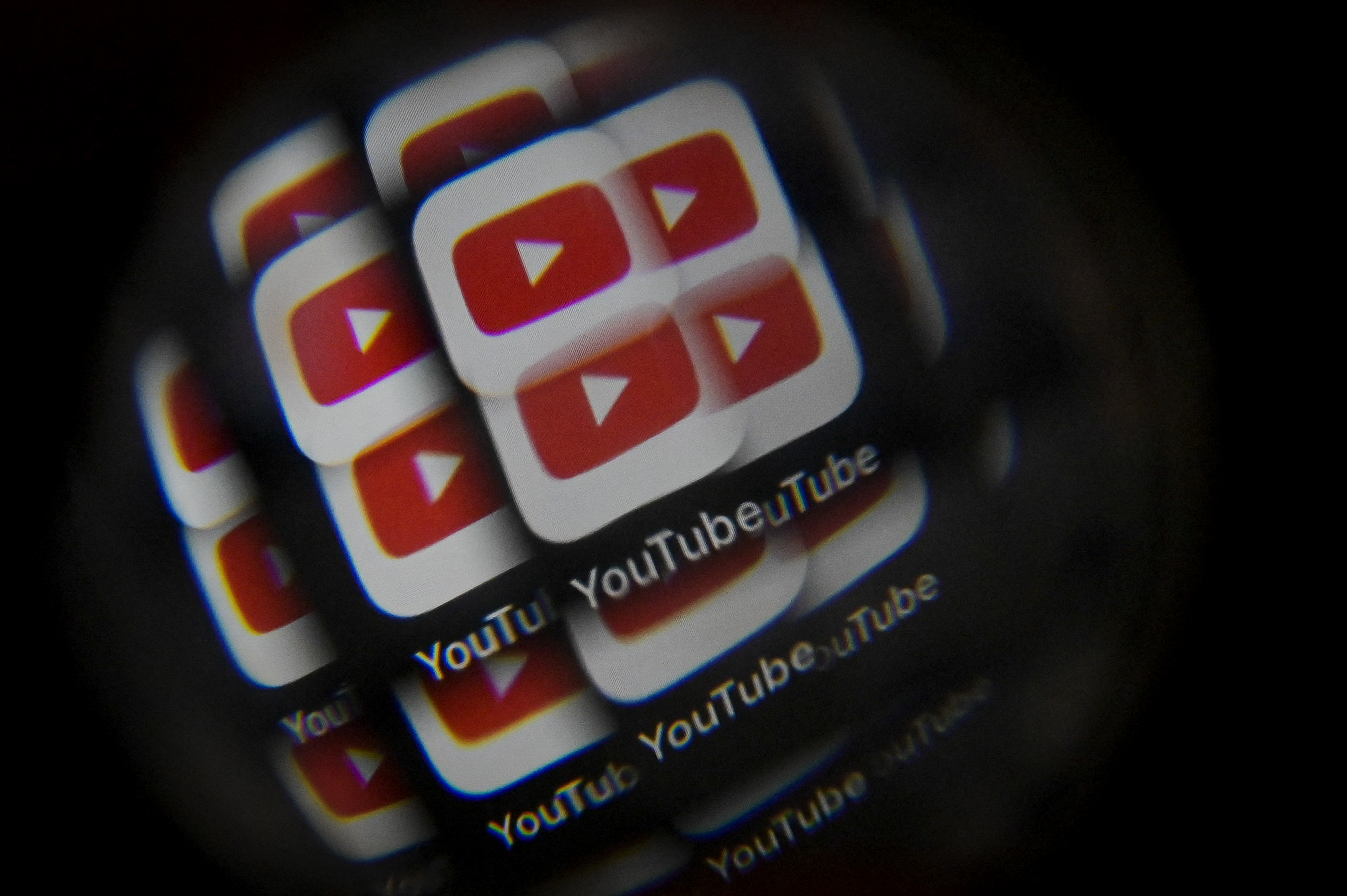 Unraveling the Mystery Behind a Secret YouTube URL
Piracy. Disinformation. Monitoring. CYBER is Motherboard's podcast and reports on the dark underbelly of the internet.
The message that was going to push me down a weird tech hole came out of nowhere.
"yo. replace 'watch' on any youtube video URL with 'wtch'," the February Twitter direct message read, ending with a heart emoji.
I did what was asked of me. I pulled up a random YouTube video about my recommendations, something probably related to video games, and clicked play. While it rumbled in the background, I took the "watch" part of the URL and removed the letter "a".
I pressed enter, not knowing exactly what was going to happen. After a second or two, my browser redirected me to another webpage. A blocky, computer-generated figure appeared on the left side of my screen. A series of random numbers and letters displayed on the right. It wasn't YouTube anymore. It was a profile for a player of the very popular game Minecraft on a totally different website.
I was confused. How did a legitimate YouTube URL lead me away from YouTube itself? It wasn't a fake YouTube page that led me here. It started with a real video on the site, and I just changed a letter to create a new URL, still affiliated with YouTube. And why did I specifically land on this page which was totally different from YouTube?
The answer would later reveal much more than the machinations behind this little trick.
Initially, my tipster, who used the pseudonym KT, didn't provide much more information. When I asked how it worked, they didn't answer for several hours. "Have you figured it out yet?" they messaged later.
"It's a pretty unique, dumb way on the YouTube side," they added a day later.
A few weeks later, the 'wtch' URL pointed to another page. When replacing 'watch' with 'wtch' in a YouTube video URL, the browser no longer redirected to the Minecraft profile. He went to a specific YouTube channel with the username "HiddenName" and a box asking if I want to subscribe to the channel automatically popped up on the screen. Someone was changing the page the URL was pointing to.
I followed up with KT, and this time they had more details. KT said the "wtch" trick was something to do with an "MCN panel". After searching on Google, I discovered that MCNs, or Multi-Channel Networks, are groups of YouTube channels that come together. This can be useful for branding, gaining a larger audience, and splitting sponsorship revenue. Branding agencies sometimes manage these networks and can use one panel or dashboard to manage all of these channels at once.
Multi-channel networks are a bit outdated now. Over the past decade, creators may have wished to join an MCN so they could gain access to the company's panel that would help streamline and professionalize the creator's workflow, displaying their income, payslips and other information.
Today, YouTube provides much of this information directly to creators. But companies today still offer similar signs and services.
So I found a company that seemed to offer one of these MCN panels. After making contact and arranging a phone call with someone who works at one of these companies, I agreed not to publish his name or the name of his company so that he could speak more candidly about what was going on with the MCNs, and hopefully the mystery on the 'wtch' URL.
"Everyone is super secretive about it," the company source said. "That's so stupid," he added, referencing everything going on with those YouTube URLs. When I asked him to expand, the company source said that people take custom YouTube URLs by submitting requests to YouTube, saying the URL should belong to them. Normally, a YouTube channel URL might be something like youtube.com/channel/ followed by a string of seemingly random characters. People can also request their own custom URL.
But what if you want a URL that isn't really your brand name, or your media, or anything else? The source said that people who want a specific personalized YouTube URL often message him, sometimes around 10 people a month, in his position at a company involved in multi-channel networks. People would ask him to make a request for a particular YouTube URL for them, which those with an MCN panel can do, the source said. As a legitimate company, the company always denies such requests, the person said.
Interestingly, the person said that those involved in these YouTube games are also typically involved with sites like OGUSERs. It rang a bell: For years my colleagues and I covered this site, which is a forum where people exchange Instagram and other social media handles. Typically, usernames will be single words or names that are harder to register, and therefore more valuable. Often, OGUSERs members hack these accounts and then sell them for thousands or tens of thousands of dollars. Some people collect them for the weight.
I looked on the OGUSERs forum and sure enough there was someone selling what they described as a "YouTube URL Complaint Service". The person who offered the service, who used the username F, told me in a chat on the Telegram messaging app that "I don't go out of my way to contact YouTube myself or offer advice. that would violate their terms of service. service. My goal is to put my client in a position where they get the URL they most want safely and stand out in a positive way in the future so that their investment pays off.
In addition to selling a service to get specific YouTube URLs, some people are selling the URLs they've managed to get, the company's source said.
So "wtch" was almost like one of those hard to get and nice to have on Instagram, only for YouTube. Scammers have been doing this sort of thing with YouTube for years, but it only really took off recently, they added. One reason could be that the money around the Twitter and Instagram handles has dried up, they said.
Regarding the "wtch" trick, the person thought what happened was that someone had, it was now clear, obtained the custom URL youtube.com/wtch. The company's source could not say whether whoever controlled "wtch" sent the request to YouTube themselves or bought ownership of the URL from someone else, although the latter was his best estimate.
I had to talk to the only person who would really know: whoever was controlling the "wtch" URL.
KT, my original tipster, revealed how they managed to find information on how this "wtch" trick was going. They had been in contact with the person behind it. KT gave me this person's Discord username and I reached out.
"Hiya," they replied using the SeedTech handle. SeedTech asked me to verify that I really was who I said I was. So I showed them my Twitter account and told them in a few minutes that I would tweet a link to a specific article. This convinced them.
SeedTech confirmed much of what I had heard earlier and also mentioned that people are buying and selling custom YouTube URLs. They explained that to get a personalized YouTube URL, channels must have at least 100 subscribers, a banner and profile photo, and a desired URL suffix of at least 5 characters.
'Wtch' only had four characters though. How was it possible? SeedTech said the custom URL actually included an underscore and was "_wtch_". YouTube only counts letters and dashes in the character count, SeedTech said, so the URL appears to be only four characters long.
SeedTech sent me screenshots of what appeared to be an option in their panel that allowed them to choose where to redirect visitors to their custom URLs. They then made an adjustment themselves and told me to check the 'wtch' URL.
I did what I had done a month earlier. I loaded up a random YouTube video, again probably something gaming related, and removed the "a". This time, after hitting enter, a YouTube page popped up asking me if I was sure I wanted to leave their site. After clicking "GO TO SITE", I landed on vice.com. SeedTech proved they have 'wtch' under control by changing the redirect to the company I work for.
'Wtch' was SeedTech's toy. He could have him redirected to the page of his choice. Maybe he could sell it. Or he could keep it. For the time being, it was more of a collector's item.
SeedTech stated that there are also different types of redirects. While some can simply jump to a specific page, others are conditional. In this, if, for example, YouTube thinks the visitor is over 50 and located in America, they will be returned to a single page. If they are in the UK, female and under 50, they will go elsewhere.
They also made a distinction between the type of URLs they had and real "vanities". With theirs, the custom channel URL could be youtube.com/wtch, but when you click on various tabs on the channel page, such as "videos" or "playlists", the URL changes to another less elegant, such as youtube.com/c/_wtch_/videos. True vanity URLs, however, retain their vanity name even when browsing through tabs. Like youtube.com/motherboard/videos. SeedTech said they weren't able to get one of those most desirable vanity URLs.
A slight mystery remained, however. I mentioned that before the URL redirected to a particular channel, it took visitors to a Minecraft profile. SeedTech asked me to clarify.
"Actually I was unaware of this, I think it may have been done by a madman when he got access to the channel," SeedTech said, apparently referring to another user.
YouTube has not responded to my multiple requests for comment sent since mid-February.
As to why SeedTech wanted the custom 'wtch' URL, they said "I wanted the wtch URL because it's a common misspelling of watch, and seemed likely to get some traffic, I know Watc + Wath did." They were right; I have visited it several times at least.
Subscribe to our cybersecurity podcast, CYBER. Subscribe to our new Twitch channel.